In the midst of her divorce from Sam Asghari, Britney Spears has found solace in the kitchen, embracing her cooking skills with a newfound passion. The pop star recently shared her secret to making the perfect omelette on Instagram, highlighting the addition of bell peppers as her favorite ingredient. In the video, Spears can be seen expertly dicing the peppers and cracking eggs into a pan, all while contemplating why restaurants don't include bell peppers in their omelettes. Although the end result may not have been a traditional omelette, Spears seemed satisfied with her creation. This cooking era for Spears comes as she navigates her split from Asghari, sharing glimpses of her life and staying unbothered by the headlines.
Britney Spears enters cooking era amid Sam Asghari divorce
In the midst of her highly publicized divorce from Sam Asghari, pop sensation Britney Spears is embracing a new era of culinary exploration. The "Toxic" hitmaker recently took to Instagram to showcase her cooking skills and share her omelette recipe with her fans. Amid the turmoil of her personal life, Spears seems to find solace and joy in the kitchen, using it as an artistic outlet to express herself and discover new recipes.
Britney Spears Shows off Her Cooking Skills on Instagram
Britney Spears gave her followers a glimpse into her culinary journey when she posted a video on Instagram of herself preparing an omelette with vegetables. In the captivating clip, she showcases her knife skills as she dices bell peppers before cracking eggs into a pan. The singer then adds a slice of cheese, salt, and pepper to the mixture, creating a mouthwatering breakfast dish.
What sets Spears' omelette recipe apart is her use of bell peppers. She playfully questions why restaurants don't commonly include this delicious vegetable in their omelette offerings. According to her, bell peppers bring a special sweetness to the dish that enhances the overall flavor profile. This unique twist on a classic breakfast recipe reflects Spears' creative and innovative spirit in the kitchen.
Britney Spears' Omelette Recipe
To recreate Britney Spears' omelette masterpiece, follow these simple steps:
Begin by dicing bell peppers of various colors. Spears prefers using a combination of red, yellow, and green bell peppers for a vibrant and visually appealing omelette.
Crack a sufficient number of eggs into a bowl, depending on the desired serving size. Spears recommends using at least two eggs per omelette.
Whisk the eggs until the yolks and whites are fully incorporated.
Heat a non-stick pan over medium heat and add a small amount of oil or butter to prevent sticking.
Pour the whisked eggs into the pan, ensuring even distribution.
Add the diced bell peppers to the eggs, allowing them to cook and soften.
Once the omelette starts to set, carefully flip it over to cook the other side. Alternatively, you can fold it in half to create a classic omelette shape.
Sprinkle grated cheese over the top of the omelette. Spears suggests using a mild cheese like cheddar or mozzarella, but feel free to experiment with different types of cheese to suit your taste.
Season with salt and pepper to taste.
Cook the omelette until the cheese is melted and the eggs are fully cooked.
Serve hot and enjoy your delicious and nutritious breakfast!
By following Britney Spears' recipe, you'll be able to create a flavorful and visually stunning omelette that will impress your family and friends. Don't be afraid to get creative and add your own personal touch to make the recipe truly your own.
In the wake of her highly publicized divorce from Sam Asghari, Britney Spears has been utilizing her Instagram account as a platform for self-expression. Since the news of her split broke, she has been sharing multiple posts that provide insight into her current state of mind.
One of her posts showcases a vibrant photo of herself in a yellow bikini riding a horse on the beach. The caption alludes to her desire to purchase a horse in the near future, perhaps as a form of therapeutic healing.
In another post, Spears shares a video of herself dancing, accompanied by a heartfelt and lengthy caption. She addresses the end of her relationship with Asghari, acknowledging the shock and disappointment she feels. While she refrains from divulging the specific reasons behind their divorce, she emphasizes that it is nobody's business but her own.
Taking her self-expression to the next level, Spears also shares a provocative topless video of herself lying in bed. Set to the song "I Put a Spell on You" by Annie Lennox, the clip exudes a sense of empowerment and liberation. Spears is unafraid to embrace her sensuality and showcase her body on her own terms.
Lastly, she shares a playful clip of herself being licked by a male friend. This lighthearted video demonstrates Spears' ability to find joy and laughter amidst the challenges of her personal life.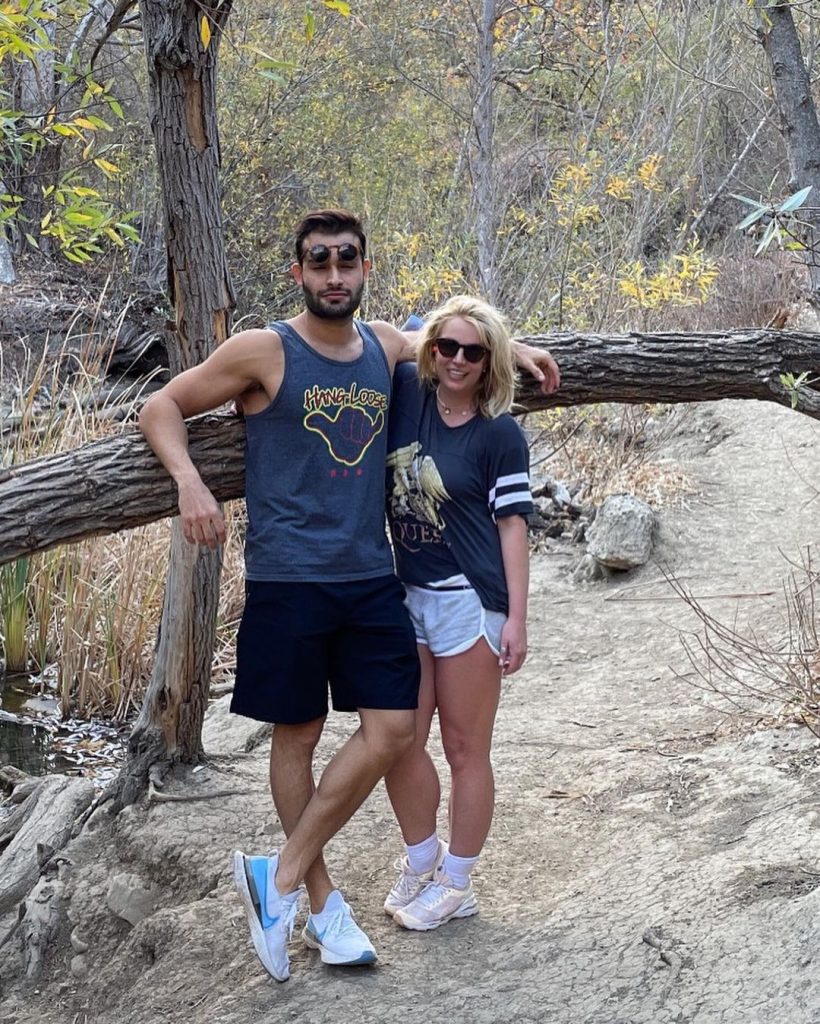 Allegations Surrounding the Divorce
However, amid the divorce proceedings, several allegations have surfaced that have further complicated the situation. Sam Asghari has accused Spears of cheating on him with a male staffer and has also alleged instances of physical violence. These claims have undoubtedly added fuel to the fire and intensified the already highly contentious nature of their divorce.
It is essential to note that Spears and her representatives have firmly denied these allegations. They assert that there was no infidelity and have questioned the credibility of the claims of physical violence. The complex and often conflicting narratives surrounding the divorce highlight the challenges of navigating a highly publicized split.
Living Separately for Months
It has been revealed that Britney Spears and Sam Asghari have been living separately for several months prior to officially filing for divorce. This revelation comes as a surprise to many, as the couple presented a united front throughout their relationship and subsequent marriage.
Living apart has undoubtedly placed a strain on their relationship. The physical distance and emotional disconnection that often accompany such arrangements can erode the foundation of even the strongest partnerships. While their decision to separate may have been rooted in personal growth and self-discovery, it ultimately led to an irreparable divide between the two.
Britney's Feelings on the Relationship
In addressing the dissolution of her marriage, Britney Spears has expressed her feelings on the nature of her relationship with Sam Asghari. She has suggested that Asghari's love was conditional and did not meet her expectations of a fairytale romance.
Spears may have entered into the marriage with the hope of finding enduring love and unwavering support. However, as the relationship progressed, she discovered that her partner's love was not as unconditional as she had hoped. This realization likely contributed to the breakdown of their relationship and ultimately led to their decision to part ways.
Background of Britney and Sam's Relationship
Britney Spears and Sam Asghari's romantic journey began in 2016 when they initially crossed paths. Their connection grew over the years, and in June 2022, the couple tied the knot in a small, intimate ceremony. The joyous occasion was celebrated by their loved ones, and it seemed as though Spears had found her happily ever after.
Unfortunately, despite their initial love and affection for one another, their marriage ultimately proved to be unsustainable. Asghari's conditional love and the challenges of living separately for an extended period contributed to the deterioration of their relationship, leading to their current divorce proceedings.
Conclusion
While Britney Spears navigates the complexities of her divorce from Sam Asghari, she has found solace and a newfound passion in the world of cooking. By sharing her omelet recipe and showcasing her culinary skills on Instagram, Spears invites her fans to join her on this gastronomic journey.
Despite the turmoil surrounding her personal life, Spears exudes resilience and creativity, using her artistic talents to express herself. She encourages her followers to embrace their own passions and find joy even in the face of adversity.
As the saga of Britney Spears' divorce continues to unfold, it is clear that she remains a force to be reckoned with. Her determination to reclaim her autonomy and live life on her own terms is an inspiration to all those who have faced challenges in their relationships.
In the end, Britney Spears' cooking era may be a metaphor for her personal growth and transformation. Just as she crafts a delicious omelet with love and creativity, she is also crafting a new chapter in her life filled with self-discovery and resilience.