In a recent turn of events, Sam Asghari has shut down rumors of marriage trouble between him and Britney Spears, calling them 'disgusting'. The personal trainer, who recently separated from the pop superstar, had previously denied claims that their marriage was in trouble just three months ago. Asghari criticized the media and accused them of using Spears as a money-making machine in a since-deleted video from May. The couple's split comes amid allegations of infidelity, but representatives for Britney have not commented on the situation. It remains to be seen what the future holds for this once-glamorous couple.
Sam Asghari Shuts Down 'Disgusting' Rumors of Britney Spears Marriage 'Trouble'
Background on Sam Asghari and Britney Spears's Relationship
Sam Asghari, a personal trainer, and Britney Spears, the iconic pop superstar, have been in a relationship since 2016. The couple met on the set of Britney's "Slumber Party" music video, where Sam played her love interest. Since then, their relationship has blossomed, and they got married in June 2022. Sam, 29, and Britney, 41, seemed to have a strong bond, with Sam frequently supporting Britney publicly during her conservatorship battle. However, their relationship has recently come under scrutiny due to rumors of marriage trouble.
Rumors of Marriage Trouble
In recent months, there have been rumors circulating about trouble in Sam and Britney's marriage. These rumors suggested that the couple's relationship was on the rocks and heading toward a split. Speculation about infidelity and arguments plagued the public conversation around their marriage. These rumors, as Sam Asghari describes them, are "disgusting" and aimed at sensationalizing their relationship for profit.
Sam Asghari's Response to Rumors
Sam Asghari took to social media to address the rumors and shut them down. In a now-deleted video posted in May, Sam expressed his frustration with the clickbait nature of these rumors. He emphasized that the majority of these stories are designed to generate income for media outlets rather than presenting the truth. Sam urged people not to believe everything they read online, emphasizing the importance of separating fact from fiction.
Criticism of TMZ Documentary
Asghari also criticized the documentary titled "TMZ Investigates: Britney Spears: The Price of Freedom." He accused the outlet of exploiting Britney's story for financial gain, describing it as using her "as a money-making machine." According to Sam, it was appalling that people who were once in Britney's life, when she had no voice, now attempted to tell her story without her input and consent. He questioned the motives behind putting the Princess of Pop in a position where her father controlled every aspect of her life.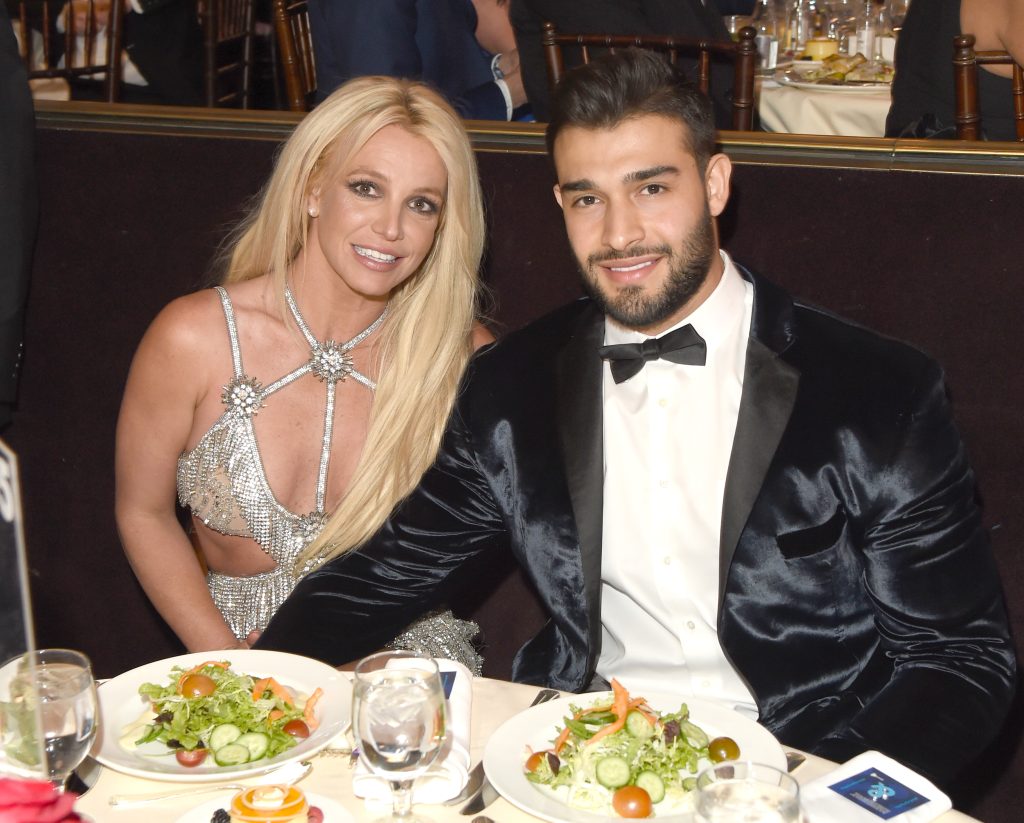 Speculation about Britney's Father's Control
Sam voiced his concerns about Britney's father, Jamie Spears, and his alleged control over her life. He questioned how it was possible to subject someone as influential as Britney Spears to a conservatorship that restricted her freedom and allowed her father to make decisions on her behalf. Sam criticized the lack of autonomy Britney had in her own life, urging people not to buy into the narrative that has been constructed around her. He called for an end to the scrutiny and exploitation of her story.
Video of Sam and Britney Kissing
In an attempt to dispel the rumors, Britney shared a video on Instagram of her and Sam kissing. The video, posted in May, was accompanied by a caption expressing Britney's love and gratitude for her husband. She called him an incredible inspiration and emphasized the strength of their relationship. However, despite this public display of affection, rumors persisted, suggesting that it was merely a facade to cover up their marital issues.
Allegations of Infidelity
As the rumors continued, allegations of infidelity surfaced. Sources claimed that Sam confronted Britney about rumors of her cheating on him. While it remains unclear whether these allegations have any basis, it reportedly led to a heated argument between the couple. Britney and Sam's marriage seemingly began to crumble under the weight of these allegations and the ensuing tension.
Possibility of Divorce
With the mounting pressures on their relationship, speculation grew about the possibility of divorce. Insiders have suggested that it is only a matter of time before Sam files for divorce. Reports indicate that Sam has already moved out of their marital home, further fueling these rumors. The alleged infidelity and the strain it caused seem to have taken a toll on their marriage, leading to the potential dissolution of their union.
No Comment from Britney's Reps
In the midst of the rumors and public speculation, representatives for Britney Spears have remained silent. There has been no official comment from her team regarding the state of her marriage or the allegations surrounding it. The lack of response has only added to the uncertainty and raised more questions about the future of Britney and Sam's relationship.
In conclusion, Sam Asghari has adamantly denied the rumors of marriage trouble between him and Britney Spears. He has denounced the attempts to sensationalize their relationship and called for an end to the exploitation surrounding Britney's story. However, the allegations of infidelity and the strain it has caused have cast doubt on the future of their marriage. As the public awaits further information, only time will tell the true state of Sam and Britney's relationship.